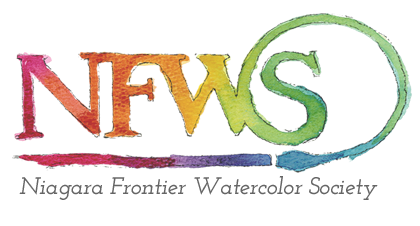 Our NFWS Spring Workshop "Abstracting Nature" with Pat Dews was inspiring, exhilarating and exhausting. Congratulations to all who participated. Pat Dews also demonstrated her art at the Burchfield Penney Art Center on Thursday, May 16th at 7 pm. It was great!

Our Spring Workshop, May 13 – 17, 2019, held at the Marienthal Country Inn in Eden, New York will feature internationally renowned watermedia artist and teacher, PAT DEWS! This week was full of excitement and inspiration.

"Design is everything! I am an intuitive painter. I delight in showing students how they can transform realistic imagery into well composed abstracted realities."

Click here to learn more about the Workshop. 
Membership
We invite you to become a member of the Niagara Frontier Watercolor Society.