The 65 paintings from 46 NFWS Members selected by our juror, Fall Workshop Artist Pam Wenger, can be viewed in the Gallery below. Not only can you view the exhibition here but we will also exhibit in person at the Kenan Center House Gallery, 433 Locust Street in Lockport, New York. The Exhibition can be viewed at from October 17 until November 14, 2021.

Manning McCandlish's Forest Gold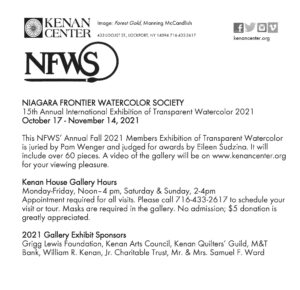 Eileen Sudzina an award winning watercolor painter from Pittsburgh, PA, will be our judge of awards.
The award winners will be made public the week of October 25, 2021. We will post them here and on our facebook page, will notify award winners, and will, of course, attach award cards with the judge's comments next to the winning paintings at the Kenan Center by October 26, 2021.
Congratulations to all artists who submitted their paintings. Keep painting and stay safe!