Thomas Schaller, Fall Workshop
October 17, 2016 @ 9:30 am

-

October 21, 2016 @ 4:00 pm
This workshop will be held at Marienthal Country Inn, 5107 Langford Rd., North Collins, NY,  14111. www.MarienthalCountryInn.com.
As of Wednesday, August 3, 2016, the Thomas W. Schaller Workshop has sold out! thank you all for your interest. Save the third week in May for the Spring 2017 Workshop with Carol Carter!
Quoting Thomas W. Schaller – "All art is a form of story-telling  and I believe that good art asks more questions than it answers.  And so it is often in this clash between the architecture of man and the architecture of nature , where I gain most of  my artistic inspiration. It is where  the most compelling questions can be asked,  and where the stories I wish my art to tell can most often be found."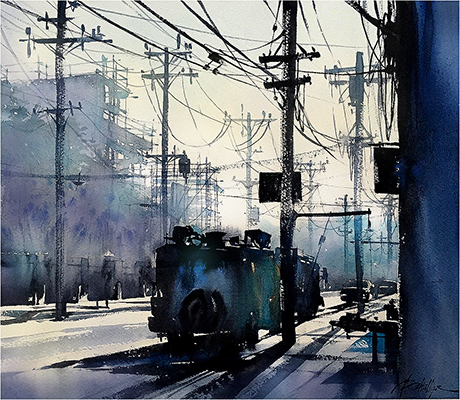 He has long been considered one of the foremost architectural artists in the world. In the field, he has won every major award for his artwork – including being a two-time recipient of the Hugh Ferriss Memorial Prize. He has authored two books ; the best-selling, and AIA award of merit winner, Architecture in Watercolor, and The Art of Architectural Drawing. He is increasingly in demand internationally to conduct his watercolor workshop series, "The Architecture of Light" filmed in 2015 as a series of videos and DVDs by Artist Network TV : It is also the working title of his next book currently in progress.
For more information about Tom and this workshop:
SCHALLER BIO
SCHALLER ARTIST'S STATEMENT
SCHALLER WORKSHOP OUTLINE
SCHALLER WORKSHOP MATERIALS
Image: Thomas W. Schaller – "Glencoe Avenue Morning – Los Angeles"
Besides our regularly scheduled meetings, workshops, and exhibitions we sometimes collaborate on certain regional events that would be of interest to our members.
Curious about our Workshops or the artists that have demonstrated? View our Past Events.