Fall 2020 Members Watermedia Exhibition
November 4 – November 28, 2020
Carnegie Art Center
240 Goundry Street
North Tonawanda, New York 14120

This Niagara Frontier Watercolor Society's Fall 2020 Members Watermedia Exhibition is being juried by Sarah Yeoman, our NFWS Fall 2020 Workshop Artist. The Exhibition is being judged by Valerie Larsen, an award winning Signature Member of the National Watercolor Society. The Submissions Period opened on Sunday July 12, 2020 and will close at midnight on Sunday, August 30, 2020. Artists will be notified as to the status of their submitted paintings between September 21 and September 25, 2020.
The Reception and Awards Ceremony:
Due to the Covid 19 pandemic, at this time we regret we will not be having an Awards Reception. Awards will be announced and given to recipients at a time to be determined.If things drastically improve and we are able to hold a reception NFWS members will be notified.
The Prospectus can be viewed and downloaded here.
Here are examples of the juror and judge's wonderful watercolor paintings.
Sarah Yeoman's Round Pond Brook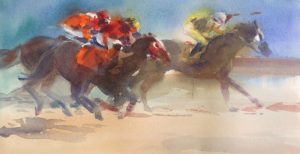 Race Track by Valerie Larsen
Thank you for entering our Members Exhibition, and good luck. Congratulations to all who are juried into the Exhibition.
---