A sale from the private collection of RITA ARGEN AUERBACH with opening reception September 14, 2019 3-5 PM Vern Stein Gallery Williamsville
September 14, 2019

-

October 12, 2019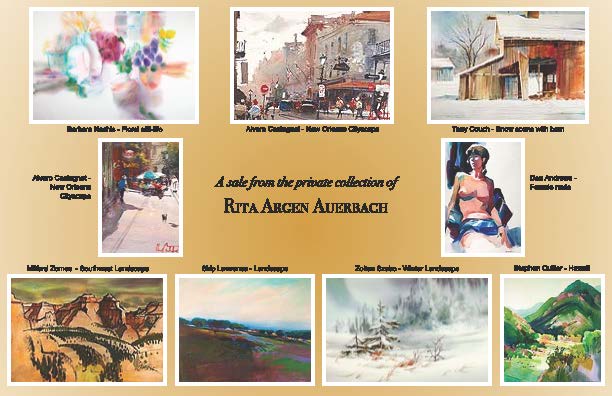 RITA ARGEN AUERBACH has donated eleven fine works from her private collection which are being offered for sale. These framed watercolors range in price from $500 to $1400 and are by nationally recognized artists Stephen Quiller, Alvaro Castagnet, Skip Lawrence, Barbara Nechis, Tony Couch, Don Andrews, Milford Zornes, and Zoltan Szabo. Please hover over images for sizes and pricing.
These watercolors are by the nationally recognized artists with whom she has studied and who have influenced her work. All proceeds benefit the Niagara Frontier Watercolor Society.
All works are framed and available for viewing and purchase:
September 14, 2019 Opening Reception and Sale 3-5 PM at Vern Stein Gallery, 5747 Main Street, Williamsville, NY
September 14-28 at Vern Stein Gallery, 5747 Main Street, Williamsville, NY
October 1-12 at The Main Frame, 1386 Hertel Avenue, Buffalo, NY
To inquire about purchasing, please contact Tim at The Main Frame, 716-447-1107
Besides our regularly scheduled meetings, workshops, and exhibitions we sometimes collaborate on certain regional events that would be of interest to our members.
Curious about our Workshops or the artists that have demonstrated? View our Past Events.