Fall 2021 Members' Transparent Watercolor Exhibition
October 17, 2021 @ 12:00 pm

-

November 14, 2021 @ 4:00 pm

Postcard Image: Forest Gold by Manning McCandlish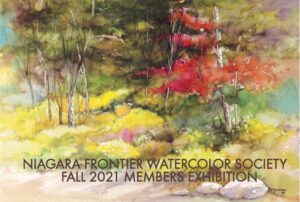 This is NFWS' Annual Fall 2021 Members Exhibition of Transparent Watercolor juried by Pam Wenger and judged for awards by Eileen Sudzina. It will include over 60 pieces. All of the paintings are posted here on our website:
Fall 2021 Members Transparent Watercolor Exhibition.
There will also be a video of the gallery on www.kenancenter.org for your viewing pleasure.
Kenan House Gallery Hours
Monday-Friday, Noon–4 pm, Saturday & Sunday, 2-4pm Appointment required for all visits. Please call 716-433-2617 to schedule your visit or tour. Masks are required in the gallery. No admission; $5 donation is greatly appreciated.
Besides our regularly scheduled meetings, workshops, and exhibitions we sometimes collaborate on certain regional events that would be of interest to our members.
Curious about our Workshops or the artists that have demonstrated? View our Past Events.