February 18th Zoom Members Meeting and Demonstration by Roger DeMuth
February 18, 2021 @ 7:00 pm

-

9:00 pm

Roger DeMuth will demonstrate virtually in a NFWS Zoom Meeting on February 18, 2021. We will provide an invitation to the Zoom event by email to all NFWS Members. We will also record the demonstration and post it on our Niagara Frontier Watercolor Society YouTube Channel. You can check out the eight demonstration videos on the channel now by clicking here.
ROGER DeMUTH comes to us from Cazenovia, New York. He is an award winning designer, illustrator, photographer and gardener who lives in Cazenovia. Among his awards are The Philadelphia Sketch Club, Publisher's Weekly, and an Oppenheim Toy Book Award. Professor of Illustration at Syracuse University from 1979-2014, he has been the Creative Director of De Muth Design since 1970. Roger was head of the Syracuse University Illustration Program 1998-2000, Co-coordinator of the ISDP-MFA, Master's Degree in Illustration 1993-1996 and organized the NYC Lubin House Senior Class Portfolio Open House annually for 20+ years. He co-chaired the Syracuse Poster Project for 14 years and has lectured extensively to colleges, universities, and community groups.
For over 45 years, Roger has been honored to work with major corporations throughout the U.S. and Europe, including the Cartoon Network, Crackerjack, Masterpieces Puzzles, Smokey the Bear, Xerox, Silver Burnett and Ginn, Consolidated Edison, WGBH Boston, Kodak, Xerox, Big Blue Dot, Disney, C.R. Gibson, American Greetings, Schultz & Friends Advertising, Niagara Mohawk , Walter Bernard-Milton Glaser Inc., Warner Brothers, The Advertising Council of America, The Syracuse International Film Festival, and many more.
In 2015 DeMuth was awarded the Gold Medal from the Museum of Comic & Cartoon Art at the Society of Illustrators in NYC.. His work has appeared in numerous exhibitions, including the Society of Illustrators in NYC and Los Angeles. His watercolors were featured in the Sept. 2017 issue of The Artist's Magazine. All 3 of his published children's books have won awards. His most recent book is the captivating 134 page watercolor collection Have Watercolors, Will Travel. For more information, please visit this web site: https://www.rogerdemuthdesign.com
"I always wanted to be an artist, and I found out along the way that the making of the art was the best part. It still doesn't matter to me which direction I choose. I can be just as happy working with watercolors as I am painting with oil paints or working in clay or digging in the gardens. I get up early in the morning & go right to work in the studio. I always start out with a sketch, revise it, do more idea sketches and think about the object from every angle before I begin making anything. This method has served me well." "If I am not making something, I am miserable." Roger DeMuth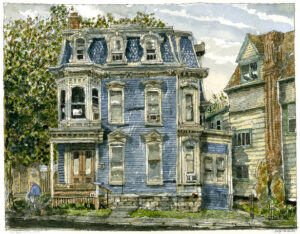 Besides our regularly scheduled meetings, workshops, and exhibitions we sometimes collaborate on certain regional events that would be of interest to our members.
Curious about our Workshops or the artists that have demonstrated? View our Past Events.