February Meeting and Demonstration by E. Jane Stoddard
February 16, 2017 @ 7:00 pm

-

9:00 pm
Our February 2017 Demonstrator is WNY's own E. Jane Stoddard, a Signature Member of NFWS, and a prize-winning transparent watercolor artist. Jane has shared her artist's statement with us:
"I begin a painting by reviewing my own photographic references, editing for composition and developing a value sketch. I choose a subject which is based on strong composition and shift in values. Every painting begins with a drawing done "free-hand" on vellum paper, transferred to 400# cold press Arches paper. I layer and glaze, working in sections to achieve rich and dark luminous passages with strictly transparent pigment.
Being an artist has always been my passion, even when all I had to work with was a box of crayons and poster paper. I paint strictly to please myself and not to satisfy a judge or the public. Winning an award or selling a painting is the "icing" on the cake. I am most happy when I am involved in the creative process and always look forward with anticipation to my next painting.
The past few years of my life have been filled with great heartbreak and joy. Throughout it all the one thing that remained constant was my painting. As my journey continues the narrative of my work is changing but my use of detail to describe my story remains constant."
Everyone is invited to attend our meeting and demonstration, and to hear about our classes, upcoming events, shows and workshops. Come enjoy the camaraderie of enthusiastic fellow artists and art lovers. For more information about NFWS check our our Facebook page. https://www.facebook.com/niagarafrontierwatercolorsociety.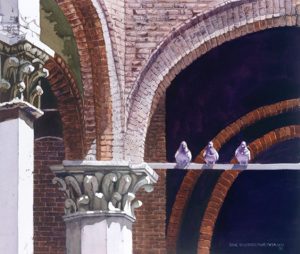 Besides our regularly scheduled meetings, workshops, and exhibitions we sometimes collaborate on certain regional events that would be of interest to our members.
Curious about our Workshops or the artists that have demonstrated? View our Past Events.