January 2017 Members' Meeting and Demonstration by Marty Kutas
January 19, 2017 @ 7:00 pm

-

9:00 pm
Our first meeting of the New Year, 2017, will feature Marty Kutas, a transparent watercolor artist and teacher from Hamburg, NY. She has been a member of the Niagara Frontier Watercolor Society for 19 years, most of that time serving as the Membership Chair. Her traditional painting style emphasize light, shadow, and experimentation with color with varied subject matter including florals, landscapes, architecture and figures. In addition to being a NFWS Member, she is a member of the Western New York Artists Group, the Centennial Art Center, the Southtowns Watercolor Salon, and an exhibiting member of the Buffalo Society of Artists,
Her formal training was in math education, but she has enjoyed painting and drawing all her life. Her training in watercolor has been through adult education classes, learning from our many talented demonstrators, and attending NFWS workshops. Now she is teaching beginning students who want to enjoy the excitement of painting with watercolor.
Everyone is invited to attend our meeting and demonstration, and to hear about our classes, upcoming events, shows and workshops. Come enjoy the camaraderie of enthusiastic fellow artists and art lovers. For more information about NFWS check our our Facebook page. https://www.facebook.com/niagarafrontierwatercolorsociety.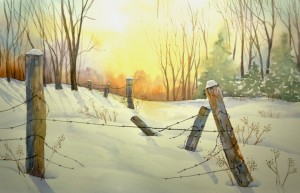 Besides our regularly scheduled meetings, workshops, and exhibitions we sometimes collaborate on certain regional events that would be of interest to our members.
Curious about our Workshops or the artists that have demonstrated? View our Past Events.