March Meeting and Demonstration by Brenda Cretney
March 16, 2017 @ 7:00 pm

-

9:00 pm
Our demonstrating artist for the March NFWS Meeting is Brenda Cretney, an award-winning Signature Member of NFWS from Brockport, NY. She started doing watercolors when she retired from teaching and enrolled in classes with a local art teacher. She then went to classes at the Creative Workshop in Rochester, and most recently took lessons from another award-winning Signature Member of NFWS, Kathleen Giles at the Kenan Center. She has also taken many workshops and read MANY books and articles.
Brenda shares her inspiration with us:
For twenty years I really enjoyed owning a horse and doing chores at a stable, This love of horses and other animals has been the inspiration for many of my paintings. If I can catch something of the animal's personality in the painting, I feel I have succeeded in the painting. I use photographs to refer to when painting. So, I have had to learn how to take pictures of animals that do not like to stand still. My camera and I can be found at farms, carriage shows, rodeos, county fairs, stables and dog parks. When the sun is shining brightly it's time to try to get the next great picture.
My husband and I share a studio over our garage where we both paint. He paints the birds he carves out of wood and I paint my watercolors. There is nothing as thrilling as having a painting turn out the way you had envisioned it when you first started.
Everyone is invited to attend our meeting and demonstration, and to hear about our classes, upcoming events, shows and workshops. Come enjoy the camaraderie of enthusiastic fellow artists and art lovers. For more information about NFWS check our our Facebook page. https://www.facebook.com/niagarafrontierwatercolorsociety.
Brenda Cretney's stunning watercolor Walnut Hill.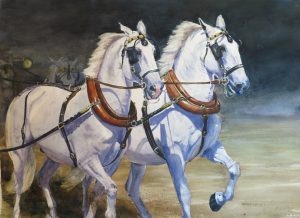 Besides our regularly scheduled meetings, workshops, and exhibitions we sometimes collaborate on certain regional events that would be of interest to our members.
Curious about our Workshops or the artists that have demonstrated? View our Past Events.