May 2021 NFWS Members Meeting and Virtual Demonstration by Spring Workshop Artist Keiko Tanabe
May 20, 2021 @ 7:00 pm

-

9:00 pm

Our Spring Workshop Artist, the exciting watercolor painter, Keiko Tanabe, will demonstrate for us on Zoom after a brief Members Meeting.
Keiko Tanabe, AWS, NWS, often works en plein air. Her atmospheric watercolors perfectly capture a sense of time and place. Keiko's definitive color, textures, and signature brushwork beautifully convey both the exotic and simple scenes of the many places she travels. Keiko grew up in an art loving family in Kyoto, Japan and won many art awards as a child. Although Keiko never attended art school, in her heart she desired to be an artist. After taking only one drawing class to learn basic technical skills, she fervently began painting in 2005.
One year later while attending a local community school in San Diego to learn basic drawing and watercolor painting skills, Keiko decided to paint full-time. From then on, she intensely taught herself to be fluent in watercolor painting, just as one would do to master a foreign language. Her subjects include landscape, cityscape, waterscape and interior scenes, which will be demonstrated in the workshop using representational and impressionistic compositions. Keiko has successfully completed more than 300 workshops and numerous live demonstrations around the world. Four DVDs and several books of her art have been featured in many art magazines.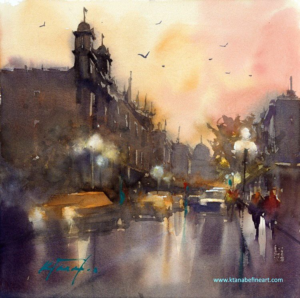 Join us on Zoom! Invitations to the meeting will be sent to all NFWS Members by email on the Monday before the May 20th Event.
Besides our regularly scheduled meetings, workshops, and exhibitions we sometimes collaborate on certain regional events that would be of interest to our members.
Curious about our Workshops or the artists that have demonstrated? View our Past Events.