November 19th Zoom Demonstration by Art Cunanan
November 19, 2020 @ 7:00 pm

-

9:00 pm

Art Cunanan demonstrated virtually in a NFWS Zoom Meeting on November 19th. We provided an invitation to the Zoom event by email to NFWS Members. We recorded the demonstration and posted it on our Niagara Frontier Watercolor Society YouTube Channel. You can check out the six demonstration videos on the channel now by clicking here.
Niagara Frontier Watercolor Society YouTube Channel.
Art Cunanan's Bio
Born and educated in the Philippines, Art immigrated to Canada in 1976. Excited at the prospect of pursuing his passion for painting, he enrolled in workshops to gain knowledge of the business of Art in Canada. Today he lives in Southern Ontario with his wife where the surrounding abounds with beautiful subject matters. "If only we would stop and appreciate the beauty that surrounds us." It has served him well as most of his paintings depict beautiful Ontario.
From oil to watercolor and acrylics, Art has proven that he can handle all three mediums very well. Being more at ease with watercolors, Art conducts workshops all across Canada, United States and Europe using the medium with expertise.
"I love nature; it inspires me all the time. Light dominates my paintings, it makes them alive. Being able to paint is a gift, sharing this talent is God given."
Here are two images shared with us by Art. Beautiful!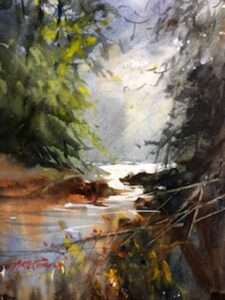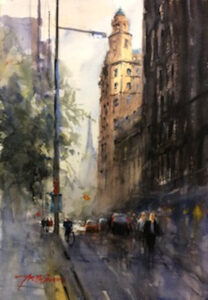 Besides our regularly scheduled meetings, workshops, and exhibitions we sometimes collaborate on certain regional events that would be of interest to our members.
Curious about our Workshops or the artists that have demonstrated? View our Past Events.