October 21st Virtual Members Meeting and Demonstration by our Workshop Artist, Pam Wenger
October 21, 2021 @ 7:00 pm

-

9:00 pm

After a brief Members Meeting updating us on what's happening at NFWS and in our arts community, our Fall Workshop Artist, Pam Wenger will demonstrate her considerable transparent watercolor skills.
This will be a virtual ZOOM Meeting. All NFWS Members will receive a link to the meeting by email at the beginning of the week of the meeting.
About Pam Wenger
I can't remember a time when I didn't love art. Many of my best childhood memories revolve around art projects – either school projects…my own…or assignments my dad was always coming up with for me to do. When I became an elementary teacher there were plenty of outlets for creativity, but it wasn't until I retired in 2012 that I began to explore painting. I figured I'd try watercolor first because it would be easier and cheaper than oils (both incorrect assumptions!).
I'm having a fantastic time exploring all types of subject matter, but I'm drawn to portraits and figurative work. I'd taken some art classes in college and some classes at our local art association. I've also had the privilege of working with portrait artist, Ted Nuttall, and of attending sessions with Charles Reid. Both of these artists have had a huge influence on me. I'm also fortunate to count many amazing local artists among my friends. They keep me constantly inspired and challenged to grow as an artist.
My portrait paintings are my real love – it's hard to explain the excitement of trying to connect with the essence of a person through their expression…their pose…their placement in the composition. When I feel my relationship to my subject matter begin to click in the early stages of a painting, it's like the beginning of a friendship – it begins to evolve and take on a life of its own. (Of course – there are times when it just doesn't work out, either!) Pam's Website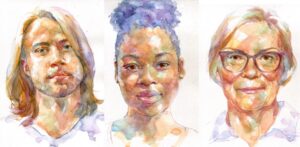 Besides our regularly scheduled meetings, workshops, and exhibitions we sometimes collaborate on certain regional events that would be of interest to our members.
Curious about our Workshops or the artists that have demonstrated? View our Past Events.