September Members Meeting and Demonstration by Barbara Fox
September 20, 2018 @ 7:00 pm

-

9:00 pm

Our monthly Members Meetings are brief and open to the public. We welcome everyone interested in watercolor, the regional arts community and learning. There is always a demonstration by remarkable water media artist, and snacks are provided!
September's artist demonstrator is Barbara Fox. What a treat!
Barbara Fox is a painter recognized for still life and floral subjects in watercolor and oil. Her meticulously crafted paintings are exhibited and collected internationally, have received numerous awards, and have been selected for publication in fine art books and magazines. Barbara's work has been published in four editions of the watercolor publication Splash: the Best of Watercolor Painting. She has been a featured artist in the leading national art magazines American Artist and Watercolor Magic. She leads watercolor workshops around the country, teaching her method of layering washes and painting details. She is a signature member of the National Watercolor Society and the International Guild of Realism, among others.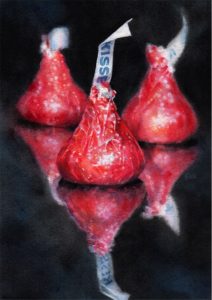 Barbara's Artist Statement:
My working method pays homage to the Dutch masters and the tradition of academic painting. I work from life and photographs. Watercolor and oil paintings begin as detailed drawings to which a number of glazes are applied, building deep values and rich colors. The process of completing these works may take many weeks, so I usually have several paintings in process at once. Creating artwork is both a meditation and an adventure that opens my eyes to our beautiful world.
Besides our regularly scheduled meetings, workshops, and exhibitions we sometimes collaborate on certain regional events that would be of interest to our members.
Curious about our Workshops or the artists that have demonstrated? View our Past Events.