Spring 2019 Workshop with Pat Dews
May 14 @ 9:30 am

-

May 18 @ 4:30 pm

Our Spring Workshop will feature internationally renowned watermedia painter and teacher Pat Dews.
This Spring's Watercolor Workshop will be held at Marienthal Country Inn, 5107 Langford Road in Eden, NY, May 13 – 17, 2019, 9:30 am – 4:00 pm.
Registration Forms for the Workshop will be available on Monday. March 4, 2019 on this site. They will also be emailed to all NFWS Members.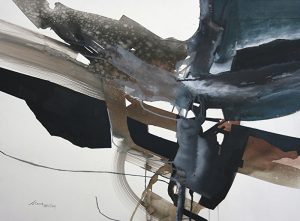 ABOUT THE ARTIST:
Pat Dews, a graduate of The Fashion Institute of Technology, New York City is a signature member and Dolphin Fellow of the American Watercolor Society, the National Watercolor Society, National Collage Society and the New Jersey Water Color Society.
Dews creates experimental works in watermedia on paper and canvas. She paints the abstract essence of nature. The shapes and textures of flowers, rocks, water, crumbled walls, rusty objects are translated into richly layered paint surfaces. Collage is often integrated. Dews skillfully juggles organic and geometric forms, transparent and opaque paint – all held together by a basic abstract underlying shape. It is this intricate dance, rendered in strong color and value which produces her award-winning paintings.
Dews' painting, "Overpass" received Second Place in the 33rdAnnual Artist's Magazine Abstract/Experimental category. Pat received The Mary Bryan Memorial Medal at the 150thAmerican Watercolor Society Exhibition, 2017, the Paul B. Remmey, AWS, Memorial Award at the 148thAmerican Watercolor Society International Exhibition, 2015, the Edgar Whitney Memorial Award at the 149thAmerican Watercolor Society Exhibition, 2016 and the China Zou Yinong Silver Award – China/NWS Small Image Exhibition, 2016. Dews' paintings were represented in the 2015 Small Image Exchange Exhibition and the 2015 Shenzhen International Biennial Exhibition, China.
Pat is the author of [the painter's workshop] Creative Composition & Design, 2003 (ebook), and Creative Discoveries in Watermedia,1998, published by North Light Books. Her work has appeared in numerous books and publications. Dews' videos, Designing Great Starts with Texture and Formand Let's Get Started Finishingare available through Cheap Joe's Art Stuff.
Pat is an enthusiastic, popular instructor, teaching workshops internationally. Dews has acted as juror for both the American Watercolor Society and the National Watercolor Society. Pat lives in Hobe Sound, Florida and spends summers in Southold, New York.
E-mail: PatDews@aol.com Web Site: www.patdews.com
ABOUT THE WORKSHOP: ABSTRACTING NATURE
For Pat design is everything as she creates experimental works in watermedia on paper and
canvas. The design elements: shape, texture, line, space, value and color translate what she
sees in nature. Being an intuitive painter, she delights in showing students how they also can
transform realistic imagery into well composed abstractions.
Here is the 5 Day Plan for Pat's Workshop:
Learn to Paint Better Abstracts
Join us for a week of inspiration and camaraderie.
Besides our regularly scheduled meetings, workshops, and exhibitions we sometimes collaborate on certain regional events that would be of interest to our members.
Curious about our Workshops or the artists that have demonstrated? View our Past Events.