March 17th Members Meeting and Demonstration by Kris Parins!
March 17, 2022 @ 7:00 pm

-

9:00 pm

After a brief Members Meeting, Kris Parins will be our artist demonstrator, joining us from Sarasota, Florida.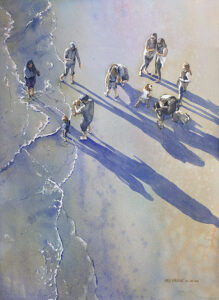 Delight in nature was instilled in Kris in her childhood, spent at the edge of a lake in northern Wisconsin. That same small lake now provides the view and inspiration from the windows of her summer studio. She spends winters painting in Sarasota, Florida.
A Signature Member of several watercolor societies including AWS, NWS and TWSA, Kris Parins' award-winning paintings and articles have been featured in Watercolor Artist, International Artist, and American Artist Watercolor magazines, as well as several editions of Splash, the Best of Watercolor. Her work is regularly included in international competitions including Birds in Art at the Woodson Art Museum.
After earning an art degree from the University of Wisconsin-Madison she studied graphic design. As an art director and account executive, she enjoyed the occasional opportunity to create watercolor illustrations for her clients' product graphics. Since 1999, Kris has devoted her creative energy toward fine art. Watercolor's transparency and vibrancy, combined with an element of surprise, continue to keep her interested in this challenging medium. Frequent travels provide fresh input and continue to inform her way of interpreting the world around her.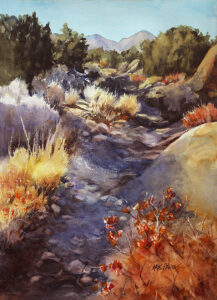 Kris Parins – Artist Statement:
Through my art I strive to communicate my joy of experience, both of observation and of creation. When I succeed, the person who views one of my paintings will see a small part of the world in a new light.
By exaggerating essentials and eliminating detail in my reference photos and sketches, I call attention to the ideas that interest me, resulting in paintings that are more powerful, abstract, and personal.
I continue to love transparent watercolor because I am energized by the randomness and spontaneity it provides. The swirl of color mixing on the paper creates its own nuanced atmosphere and inspires a conversation with the medium, often suggesting new directions.
Besides our regularly scheduled meetings, workshops, and exhibitions we sometimes collaborate on certain regional events that would be of interest to our members.
Curious about our Workshops or the artists that have demonstrated? View our Past Events.