February Members Meeting and Demonstration by Carl Purcell
February 17, 2022 @ 7:00 pm

-

9:00 pm

After a short Members' Meeting, we will introduce Carl Purcell, a popular teacher and inspiring artist from Utah.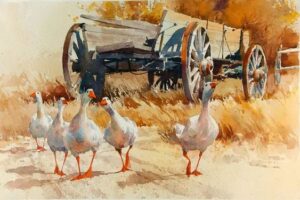 Artist's Statement:
The two greatest forces that have motivated my art are those that came from my parents.
From my father I inherited a love of geology and the study of rocks. He loved geology and I
grew up loving to tramp the rock canyons near my home in Arizona. He and my mother
both came from farming families, and though I never had a desire to farm I do love to paint
the old farm buildings. Somewhere in my soul geology and farms merged with a musical
river whose headwaters are a mystery to me. I always loved to sing and music has remained
a deep love of mine. Music merged with the other influences to inform most of what I do. I
even married a musician and she has inspired me more than anyone.
I view the old barns and sheds as the detritus of past dreams, the song that is left after those
whose lives etched their cadence in the earth are gone. The old oft- repaired fences leaning
in undulating dances present a rhythm I feel and hear. I respond to the rhythm in the waving
grasses, the sunbaked boards and discarded buckets and barrels, the rusting bones of old
machinery and tractors. To me, an old farm is a veritable orchestral arrangement of shapes
and lines.
The interest in geology bequeathed to me by my father is the other theme I find myself
returning to periodically. I am drawn to rocks, rock canyons and road cuts that reveal the
layers of geologic strata. I see in the pattern of cracks and the layering arrangement of
shapes a rhythmic notation, like a conductor's score. I just transcribe it into a painted
variation. Many of the paintings so inspired bear musical names like "Stone Cadence",
"Rocky Rhapsody" or "Appassionata". Thus, the twin themes of my life are borne along by
a musical tide that for me is the core of my art.
Biography:
Carl did his undergraduate work at Utah State University and Arizona State University. Following military service, he completed his Master of Fine Arts degree at Brigham Young University in Provo Utah. From the outset his emphasis was drawing and painting, especially watercolor.
Mr. Purcell is the author of the watercolor painting book, "Painting With Your Artist's Brain", published in 2004 by Northlight Books. His second book, "Drawing With Your Artist's Brain", was published by Northlight Books in 2007. These two books have since been published in one volume titled "Your Artist's Brain", and has recently been published in a Dutch language edition. In addition his work has appeared in The Artist's Magazine, and "Splash I". He has authored numerous articles for The Artist's Magazine, and has had his work highlighted in publications in the United Kingdom and in China.
Carl taught painting and drawing at Snow College in central Utah for thirty years. It was this experience that led to him writing two books and teaching workshops.
Mr. Purcell's driving passion in teaching has been to help students learn how to truly observe the aspects of the visual world that make drawing and painting so enjoyable. He is an enthusiastic teacher who enjoys sharing everything he learns. He has taught numerous drawing and watercolor painting workshops throughout the United States and in Canada, England and Scotland.
Carl is a signature member of the National Watercolor Society, and was given honor member status in the Utah Watercolor Society for his contributions to watercolor in that state. His work hangs in numerous private collections, corporate collections, and museums. He is often asked to jury watercolor exhibits and was one of the jurors for the National Watercolor Society's annual exhibit in 2009.
"I am drawn to patterns. Much like a mathematician who studies the underlying patterns in what appears to be chaos, I am intrigued by the way we see and respond to patterns more than things. I want to make those patterns more visible, to bring them out of hiding and celebrate them. I love patterns of shape, and color, patterns of line and lights and darks."
Besides our regularly scheduled meetings, workshops, and exhibitions we sometimes collaborate on certain regional events that would be of interest to our members.
Curious about our Workshops or the artists that have demonstrated? View our Past Events.