January 20, 2022 Members Meeting and Demonstration by Tim Saternow on Zoom!
January 20 @ 7:00 pm

-

9:00 pm

After a brief Members Meeting, and welcome back from holiday break, Tim Saternow will demonstrate his incredible skill at capturing light and shadow in the city.
Tim shares "I paint with light and shadow. I make the city quiet."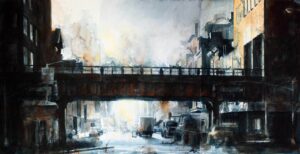 He is an American painter whose watercolor paintings explore the lost and forgotten areas on the edges of the urban scene. His work encompasses the old High Line train trestle above the gritty industrial streets of New York City, the empty homesteads of Joshua Tree, California, and the dignified and genial old houses of Provincetown, on Cape Cod.
Saternow, trained as a set and lighting designer in theater, and as an art director in film, has always used his design sensibilities to make paintings that tell stories of the people who live in these places.
He paints large architectural landscape watercolors with a thick use of watercolor paint, playing with the tension between the illusions of depth, carefully drawn linear perspective, and an obvious play on the surface of the paper through watermarks, paint runs, blooms and spatters. Saternow is particularly sensitive to the emotive power of light, especially the distinct light of fall and winter creating deep shadows while playing across the faces of the old brick townhouses in New York and the weathered clapboard of Cape Cod.
Tim Saternow was awarded the 2019 Fellowship with The Clark Hulings Fund, and is currently a Executive Fellow in the Clark Hulings Fund's Art-Business Accelerator Program.
Besides our regularly scheduled meetings, workshops, and exhibitions we sometimes collaborate on certain regional events that would be of interest to our members.
Curious about our Workshops or the artists that have demonstrated? View our Past Events.