January Members' Meeting and Demonstration by Carol Molnar
January 16, 2020 @ 7:00 pm

-

9:00 pm
After a short and informative members meeting, we will welcome our own NFWS Signature Member Carol Molnar, an Elma NY artist whose paintings and other media creations have long fascinated all who know her.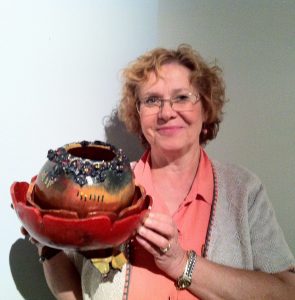 Artist's Statement: "Watercolor is just one of several ways I find to get the art stuff out. I taught art for thirty one years (1st-12th grade) so I see myself as a "jack of all trades and a master of none". It wasn't until several years after retiring and joining NFWS that watercolors were given some extra space next to: sewing, gardening, painted wood creations, batik, stained glass and jewelry design.
I am not by any sense of the word a "disciplined" painter. Weeks or even months will go by before picking up a brush. The paintings are always worked on in my head long before being placed on paper. Then the need to paint takes over and I will disappear into my workroom.
A future painting presents itself at any given time. I am so thankful for camera phones to preserve the memory of that perfect composition. Sometimes … well actually pretty often, I will view a scene and see it as if it was already a finished painting. Objects from nature appear to be the work of assorted artists: a Burchfield tree, a Georgia O'Keeffe sky, a Picasso rock, (I have one in my garden), a composition by Adolph Gottlieb, and then the sun will quietly and perfectly cover a house for a painting by Edward Hopper. I'm sure this happens because of all those years of teaching art history, the principles of design and the elements of art."
Everyone, member, not yet member and watercolor lover alike, is welcome to join us. We are a group that shares enthusiasm for watercolor and watermedia, welcomes friendship old and new, and enjoys good snacks!!!
Besides our regularly scheduled meetings, workshops, and exhibitions we sometimes collaborate on certain regional events that would be of interest to our members.
Curious about our Workshops or the artists that have demonstrated? View our Past Events.