November 21st Members Meeting and Demonstration by Mick McAndrews
November 21, 2019 @ 7:00 pm

-

9:00 pm

After a short and informative members meeting, we will welcome Mick McAndrews, an award winning, nationally exhibited watercolor artist from Downington, PA.
Mick's award winning paintings strive to capture the mood and atmosphere of a subject, combining the magic of watercolor with reverence for the principles of design to create works of sophisticated simplicity. He is a signature member of the Philadelphia Watercolor Society (Crest Award), the Pennsylvania Watercolor Society (Sylvan Grouse Guild) and the Baltimore Watercolor Society. He is also an Artist Member of the Mid-Atlantic Plein Air Painters Association.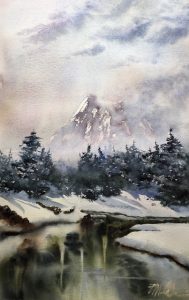 Mick's Demonstration: During this watercolor demonstration Mick will focus on working with plenty of water and pigment to exploit the wonder and intrinsic beauty of the medium. He offers – " I will avoid the pitfalls of noodling with fussy details and instead focus on the importance of good design including interesting shapes, value contrast and variety of edges. With this knowledge we will explore and experience the "magic" that makes watercolor so distinctive."
Artist's Statement
I am a passionate painter who believes that time spent painting is precious. My goal is to draw and paint every day and I believe that the fastest way to artistic growth is through the activity of painting. I enjoy painting outside to take advantage of surroundings, natural light, and the sights and sounds that influence each painter's creative nature. Outside in nature's studio is where I find the greatest challenge and the greatest reward. I am challenged to capture the moment because light and its effect, reflection and cast shadow changes continuously. I am forced to simplify, to reduce the overwhelming complexity of what's in front of me into only the most important shapes and values. My nature is to be spontaneous so working loose and impressionistically appeals to me. The magic of watercolor is found in the partnership between artist and medium, of finding a balance between the knowledge, technique and skill of the painter while leaving room for the magic that makes watercolor so distinctive.
Recent Artistic Accomplishments:
Winsor & Newton Award 2019 Wayne Plein Air
Honorable Mention 2019 Parrsboro International Plein Air
Accepted 2018 National Watercolor Society Member Exhibition
Feature Artist 2018 Door County Plein Air Competition
Judge of Awards 2018 Pennsylvania Watercolor Society Member Exhibition
Third Prize 2018 Bucks County Plein Air Competition
Canson Award 2018 Wayne Plein Air Competition
Best Use of Light Award 2018 Mountain Maryland Plein Air Competition
Third Prize 2018 Plein Air Brandywine Valley Competition
Demonstration artist and field painter for the 2017 Plein Air Convention & Expo
17th National Exhibition of the American Society of Marine Artists
PWCS Plein Air Award and People's Choice Award – 2017 On Location: Artists at Brandywine Plein Air Competition
Everyone, member, not yet member and watercolor lover alike, is welcome to join us. We are a group that shares enthusiasm for watercolor and watermedia, welcomes friendship old and new, and enjoys good snacks!!!
Besides our regularly scheduled meetings, workshops, and exhibitions we sometimes collaborate on certain regional events that would be of interest to our members.
Curious about our Workshops or the artists that have demonstrated? View our Past Events.