Members February 16, 2023 Zoom Meeting and Demonstration by Tom Francesconi at 4 pm!
February 16 @ 4:00 pm

-

6:00 pm
Following a brief Members Meeting we will have the pleasure of a demonstration by Illinois watercolor artist Tom Francesconi. This will be a Zoom event, held at 4 pm on Thursday, February 16th. A Zoom link will be sent by email to all NFWS Members on the Monday before the Thursday evening Meeting.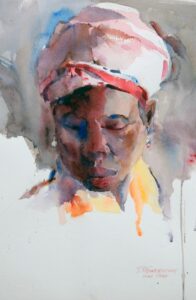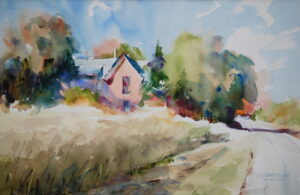 ARTIST'S STATEMENT
My paintings are a visual statement of my love for life. Yet, it is not only the world around me with which I am put in touch, but also the world inside of me. As an artist, I have chosen to express myself through the language of paint. Stirred emotions are the essential beginnings of that language. It is my hope that my paintings will echo that emotional response and the viewer will share in my spirited statements.
Tom Francesconi, aws, nws, twsa (master)
Tom Francesconi studied watercolor at the American Academy of Art in Chicago. His paintings have been exhibited in many national exhibitions, which include the American Watercolor Society, National Watercolor Society and the 2015 Shenzhen, China International Biennial Exhibition. In 2020, Tom's painting was selected for inclusion in the NWS: 100 Years Exhibition. He has earned signature membership in numerous watercolor societies, including the American Watercolor Society, National Watercolor Society, Watercolor West, Rocky Mountain National Watermedia and the Transparent Watercolor Society of America, of which he has been honored with 'Master' status. Tom has served as president of the Transparent Watercolor Society of America. Currently, Tom is the executive director of the Illinois Watercolor Society.His work has been published in eight books on American Watercolor. Tom has written articles for Watercolor Artist, Watercolor Magic and Watercolor magazines.
Tom's paintings have received many awards in regional and national exhibitions, including the 1st Place Award at the 2011 Watercolor West Exhibition, 3rd Place Awards at the 2019 Houston International Watermedia Exhibition and the 2019 Rocky Mountain National Watermedia Exhibition. Tom received an Honorable Mention Award for his painting, "Unleashed", published in The Best of Watercolor: Winners From the 22nd Annual Splash Competition, June 2021. Tom received the Gordon and Mildred Memorial Award at the 2023 Adirondacks National Exhibition of American Watercolors.
Tom's paintings are held in the corporate collections of Inland Real Estate Corporation, Oakbrook, IL, CNA Insurance Company, Chicago, IL, Paige Bus Enterprises, Chicago, IL and Morgan Stanley Financial Services Company, Chicago, IL and in many private collections throughout the United States. Along with his weekly classes in Chicago, Tom has conducted watercolor workshops throughout the United States, Canada, France, Italy and Croatia.
www.tomfrancesconi.com
Besides our regularly scheduled meetings, workshops, and exhibitions we sometimes collaborate on certain regional events that would be of interest to our members.
Curious about our Workshops or the artists that have demonstrated? View our Past Events.