NFWS welcomes Linda Lucas back to Buffalo for our September 2016 season kickoff meeting. Linda graduated from Rochester Institute of Technology with a Fine Arts degree & also attended NYS University @ Elmwood for Fiber Arts & Surface Design.
Linda has taught a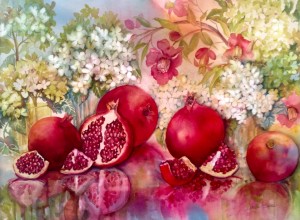 nd conducted workshops in watercolor, acrylic inks and silk painting in Florida, Chautauqua Institution.
She participates in juried fine art outdoor shows year-round & has received numerous awards including best of show in New York & Florida as well as first place this year at the Allentown Art Festival.
Linda is inspired by nature and expresses that love through her paintings celebrating bright colors, shapes & surfaces that are woven together to create engaging forms in both traditional and impressionistic joyful art.
Visitors are invited to hear about watercolor classes and upcoming events, watch the demo, and enjoy refreshments with a group of enthusiastic fellow artists and art lovers. For more information about NFWS, check out our website, www.nfws.org.