NFWS 14th International Exhibition of Transparent Watercolor 2019
October 20, 2019

-

November 17, 2019

NFWS 14th International Exhibition opens October 20th and runs until November 17th, 2019 at the Kenan Center House Gallery in Lockport, NY. The prospectus is available to review, download and print here and on the Call for Work page. . Our Workshop Artist, Iain Stewart is the juror and the judge for awards. Stewart selected 50 paintings from 136 entries from 76 artists. The Awards Ceremony and Reception is Sunday, October 27, 2019, 2 – 5 pm.
International Exhibition Prospectus Fall 2019 corrected 7.10.19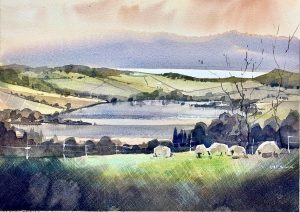 This is one of Iain Stewart's idyllic transparent watercolor landscapes!
Besides our regularly scheduled meetings, workshops, and exhibitions we sometimes collaborate on certain regional events that would be of interest to our members.
Curious about our Workshops or the artists that have demonstrated? View our Past Events.