Dates: Wednesday October 11 to Saturday October 14, 2023
Location: Taylor Theater Meeting Room at The Kenan Center in Lockport, NY (behind Kenan House – accessible ramp)
433 Locust Street Lockport, NY 14094
Time: 9:30 am – 4:00 pm
Lunch: 12:15 – 1:00 pm (Bring lunch or order daily through the workshop)
Fee: Members: $350 Non-Members: $390
Stan Kurth Workshop Registration Brochure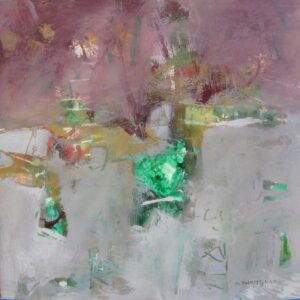 Workshop Description:
The aim is to teach all levels of students to paint intuitively, starting without preconceived notions or outcome. There will be no preliminary planning or drawing. Process will dictate direction as students use watercolor and gouache to implement elements and principles of design. Painting will start with random marks, then color is added using a mixture of watercolor and gouache to create a library of design elements. The instructor will offer regular comments and evaluate work in progress regarding relationships between design elements and principles. It is entirely possible finished work may be representational, but the goal is work which is compositionally pleasing and aligned with each artist's personal aesthetic.
General Plan: The instructor will demonstrate every day of the workshop, usually first thing in the morning. The rest of the day will be spent with students as they work on that day's assignment (based on the morning demonstration). On the first day of the workshop after introductions, Stan will give an overview on the elements and principles of design, then an explanation of intuitive painting as he sees it. On the last day of the workshop critique time will be allotted in the afternoon based on the number of students in the class.
About the artist:
Artist and workshop instructor, Stan Kurth, has drawn and painted most of his life. An aunt, who was an artist and art instructor, influenced him even before he began school. Stan lives with the conviction of "fear not" and that same attitude permeates not just his life, but his art. His focus and dedication to his work have earned him signature member status in several watercolor societies including the National Watercolor Society, San Diego Watercolor Society and the Western Federation of Watercolor Societies – Master. He currently lives in Arizona.
"My paintings are expressions of my life experience, everything which has touched and moved me along a path to the latest work. If the work fails to speak visually, no amount of esoteric rhetoric here will change it. Painting is a discipline which requires practice, passion, devotion, focus and a steadfast spirit of pursuing something which will never be attained."
See Stan's website: https://stankurth.com for more images.