Our monthly Members Meetings are brief and open to the public. We welcome everyone interested in watercolor, the regional arts community and learning. There is always a demonstration by remarkable watercolor artist, and snacks are provided!
November's artist demonstrator is Katie Turner! Love her statement –
"When I paint, I am deeply immersed in watching colors mix. It's fascinating to play with paint – poking it – leading it – spraying it – coaxing it into walking across the paper. I almost always see shapes from nature, most always flowers." ~ Katie Turner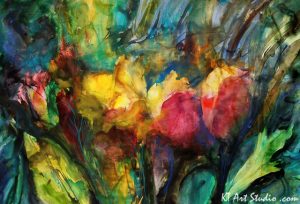 Originally from Buffalo, Katie is a watercolor artist who loves working on slick surfaces. Exposed to the art world at an early age by her late mother, a watercolorist from Buffalo, Turner continues to develop her individual style with passion and dedication painting evocative, fresh and intuitive pieces.
Although Turner spent many years in the graphic arts field, writing articles, publishing zines and working with various media, she never strays far from watercolor.
Publications: Creative Genius (Book), NLAPW, April 2018; Stone Canoe: A Journal of Arts, Literature and Social Commentary No. 12, March 2018; Celebrating 120 Years of Pen Women Coloring Book, Jan 2018; NLAPW Magazine, Winter 2017 & Spring 2015; In the Company of Women Book, Jacobs Press, June 2016; & several articles in Somerset Gallery Magazines, Scrap & Stamps & more.
Membership: International Society of Experimental Artists (ISEA), National League of American Pen Women (Visual Artist), Signature member of Central New York Watercolor Society, Signature member of Niagara Frontier Watercolor Society, and sitting on the Board of the Central New York Art Guild.