NFWS 14th International Exhibition opens October 20, 2019 at the Kenan Center House Gallery in Lockport, NY. The prospectus is available to review, download and print here and on the Call for Work page. The Submission Period is open, and extends until midnight, August 24th. Our Workshop Artist, Iain Stewart will be the juror and the judge for awards. The Awards Reception is Sunday, October 20, 2019, 1 – 4 pm.
International Exhibition Prospectus Fall 2019 corrected 7.10.19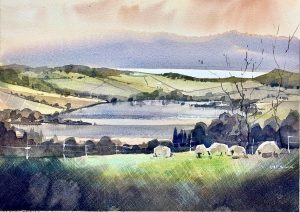 This is one of Iain Stewart's idyllic transparent watercolor landscapes!