On Sunday, October 28th at 2 pm Sally Treanor and Mike Killelea will guide us through the stunning show of transparent watercolors on show at the Kenan Center House Gallery. NFWS Members Jody Ziehm, Beverly DiPalma, Marty Kutas, Doreen Boyer DeBoth, Janis Stanek and Carol Case Siracuse will share what inspires and motivates them, and their approaches to the medium of transparent watercolor.
We've had great success with these artists talks in two previous shows, and are pleased and excited to be able to offer them again this Fall. Everyone is welcome.
Join us for an inspiring and informative afternoon.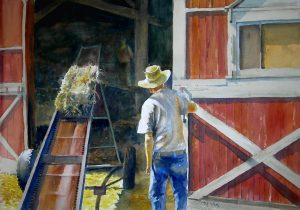 Mike Killelea's "Ken's Hay"
Sally Treanor's "Garden Walk"