Twice a year, in May and October NFWS partners with the Burchfield Penney Art Center to host a demonstration by the NFWS Workshop Artist. Our Spring Workshop Artist is internationally renowned water media artist, Pat Dews.
Pat Dews, a graduate of The Fashion Institute of Technology, New York City is a signature member and Dolphin Fellow of the American Watercolor Society, the National Watercolor Society, National Collage Society and the New Jersey Water Color Society.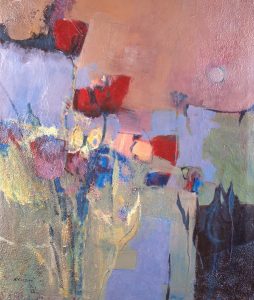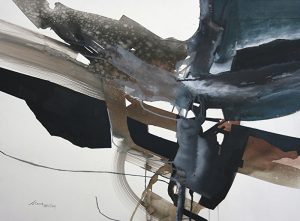 Dews creates experimental works in watermedia on paper and canvas. She paints the abstract essence of nature. The shapes and textures of flowers, rocks, water, crumbled walls, rusty objects are translated into richly layered paint surfaces. Collage is often integrated. Dews skillfully juggles organic and geometric forms, transparent and opaque paint – all held together by a basic abstract underlying shape. It is this intricate dance, rendered in strong color and value which produces her award-winning paintings.
Come to the BPAC early, check our the exhibitions, and the gallery shop. All are welcome!